He Was Dead For 10 Minutes…Now He's Walking, Talking and Tweeting
22 days ago, much of the nation was captivated by the shocking and horrific story of what happened to Buffalo Bills safety Damar Hamlin. Early in their game against the Cincinatti Bengals, Hamlin made a routine tackle, got up, and then he immediately collapsed on the field. When the team medics came to his aid, they quickly realized that his heart had completely stopped beating.
You can watch those tense moments here: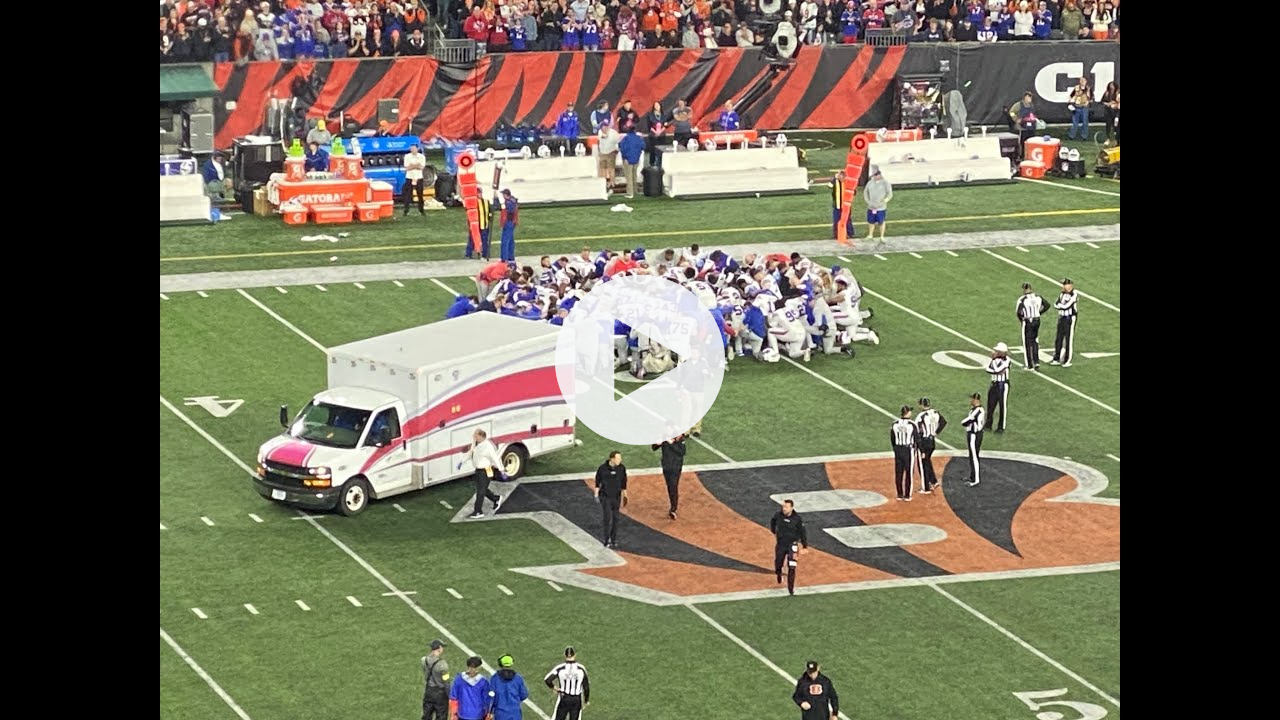 For nearly 10 minutes, Hamlin was on the field being given CPR as millions of people watched. During this time, many of the players and staff knelt down around him and began to pray for him. A picture of this group prayer is below.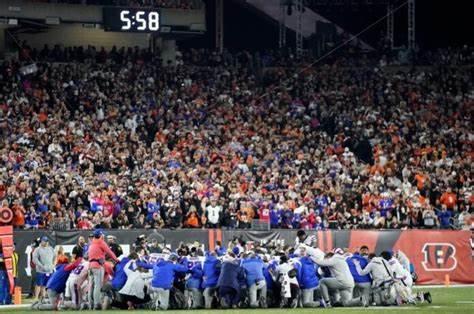 As this was going on, ESPN cut out to its anchors in New York, and they reiterated that at that point, all we can do is pray.
After being clinically dead on the field for nearly 10 minutes, life returned to Damar's body and his heart began to beat again! Talk about a Hallelujah moment!
At that point, he was taken away in an ambulance, put into an induced coma, and taken to a local hospital. The hope was that during the induced coma, his body and brain could work on recovering some of what was lost during those 10 minutes when he had hardly any oxygen flowing through his body.
It was a huge longshot though, because usually there is permanent brain damage after an incident like this, similar to when someone has a massive stroke. Knowing that, the NFL did something that I have never seen any sports league do- they encouraged all 32 teams to ask their fans to pray for Damar.
Click here to see all 32 NFL teams tweet a prayer request for Damar Hamlin-> NFL on Twitter: "Football is family ❤️ https://t.co/bGbCMGCIWG" / Twitter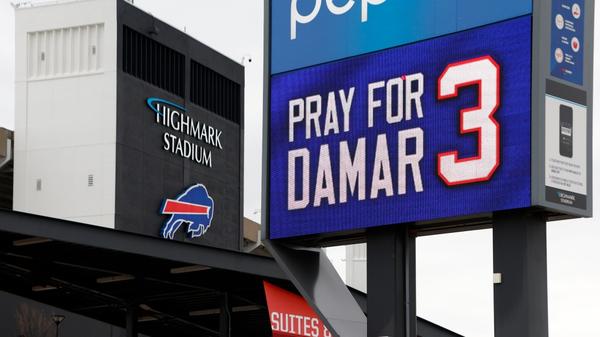 On the 3rd day, doctors made the decision to bring Damar out of the induced coma. As they did, the millions of people that were praying for him waited with anticipation to see what his functions would be like. To everyone's shock (including the doctors), the first thing he did was write the words "did we win?" on a piece of paper! This let everyone know that his brain function was still intact!
This was a headline from a news outlet afterwards.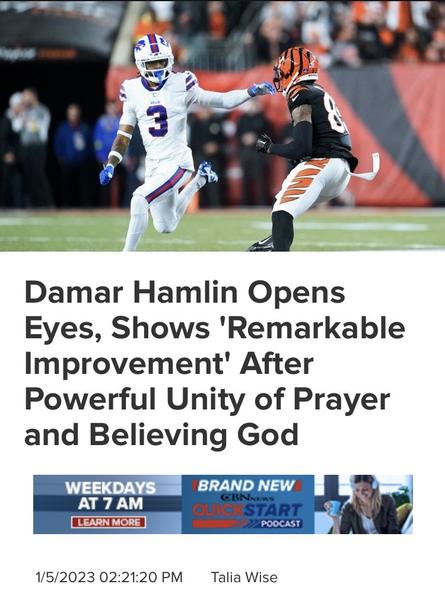 After this, so many continued to pray for Damar. There was even an on-field prayer made for him by the Jacksonville Jaguars and the Tennessee Titans on January 7th, pictured below.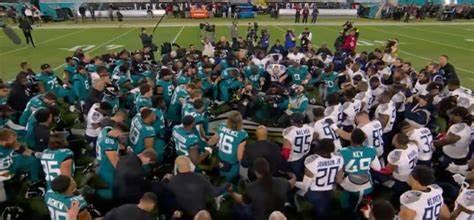 By the next day, Damar was already walking, talking…and tweeting. This made national news and put the power of God (and prayer) on display for millions to see. That day, Damar even tweeted a video of himself, with a song playing over it that says-
"Look and see what the Lord has done."
How cool is that!?
Watch that video here-> https://twitter.com/HamlinIsland/status/1612121283868909568
Another interesting layer to this story is that the weekend following Damar's collapse, and just days after he was taken out of the coma, the Bills did something that rarely ever happens in pro football- they returned the opening kickoff for a touchdown.
Afterwards, Bills players were overcome with awe and wonder as they realized that it had been exactly 3 years and 3 months since a Bills player last did that. Since Damar wears number 3, they took it as a sign from above.
After the game, Damar took to twitter and gave Glory to God for this also.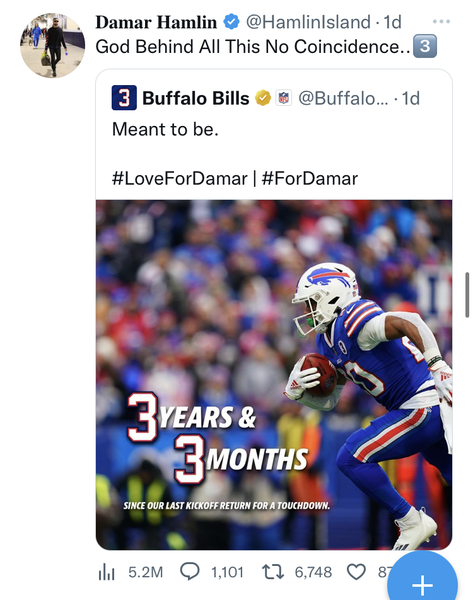 At this point, many players, including star quarterback Josh Allen, were having personal revivals as a result of seeing this series of miracles. "It was kind of like a spiritual awakening, really, for me," Allen said on the Kyle Brandt's Basement podcast. "It's something I've never felt before," he continued. "It's something that I know a lot of my teammates have never felt before."
Allen went on to say, "I'll be the first to admit, like, I haven't been the most devoted Christ follower in my life. I've had my different beliefs and thoughts and ideas and stuff like that, but something got a hold of me there and it was extremely powerful that, you know, I couldn't deny it."
Read the full article about Allen's spiritual awakening by clicking here-> 'Something Got a Hold of Me': Bills QB Josh Allen Reveals 'Spiritual Awakening' Since Damar Hamlin's Collapse | CBN News
This past Sunday, things came full circle when Damar was at the Buffalo Bills game, watching from the sidelines. They also just happened to be playing the same team they played the night of his collapse. Although the Bills lost a heartbreaker that night, I'm sure that after all he has been through, there is not much that can keep Damar from feeling like a true winner.
I hope this story encourages you and I hope it stokes your faith in God just like it has for me, Josh Allen, and millions of others. Let me know if YOU need prayer for anything too!
Blessings!
Chris
P.S. I want to give a big shout out to another amazing athlete- my son Christian! His soccer team won the local High School Soccer Championship last night! It is the highest achievement he can get at this level, and we are so proud of him!