As you may have read in my newsletter, recently we had two EPIC mission trips. One to Ft. Lauderdale during Spring Break and one to Miami during Miami Pride. They were both amazing and God moved so powerfully. Here's a few pics and videos from the trips. I hope you enjoy them!
If you have any trouble viewing the videos or pictures, you can also see them here- https://www.dropbox.com/scl/fo/jn0cztt5nvfyb1y6e1t7a/h?dl=0&rlkey=tfoz3y9au8uboccgc0l5gunvp
Mood plays an important role in determining your quality of life. It can affect your perception of the world, influence your relationships, and affect your mental and physical health.
Have you wondered how to improve your mood? Fortunately, the simplest of pleasures can elevate your mood and cost next to nothing in both time and money. Research supports the efficacy of small, affordable actions, many of which can be performed in a work setting when you are in need of...
Read more
For many years, we've heard experts say that getting 6-8 hours of sleep per night is ideal. However, according to the Sleep Foundation, only about 2/3rds of adults in the US get the recommended amount. Out of this pandemic of insomnia has arisen a sleep aid industry that is now worth over $78 Billion per year globally and projected to nearly double by 2030.
Popular sleep aids include things like prescription antidepressants, antipsychotics and benzodiazepines,...
Read more
Jean Bailey is a resident at Elk Ridge Village, a senior living community in Omaha, Nebraska. For the past 15 years, Jean has been leading fitness classes, and for the past 3 years, she has been leading them in her community. Jean continually amazes all those around her and she is showing no signs of slowing down. Even though she's 102 years young!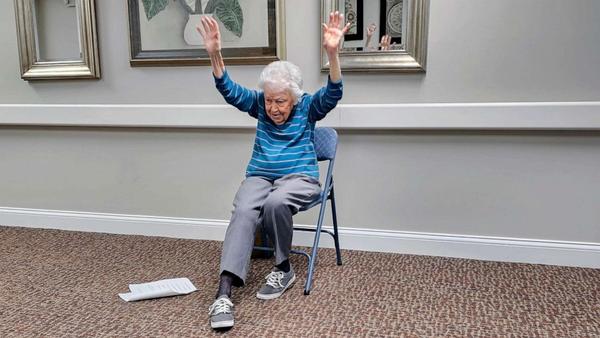 Not many people can believe this about me, but I used to be very obese. In fact, I even have the stretch marks to prove it. Although my time as an obese man was relatively short (maybe 3-4 years cumulatively), it was long enough for me to know how badly people are physically, mentally and emotionally limited by this very, very avoidable problem.
Because of this experience that I've had, I am truly saddened by the new study that came...
Read more
On February 8th, something very unusual happened in Kentucky. Students at the small Christian college- Asbury University in Wilmore (which is just outside of Lexington), came to their regularly scheduled 50-minute chapel service at 10am...and it has been going nonstop ever since. 24 hours a day!
Students described what happened that morning as a spontaneous and supernatural move of God that made them want to seek after Him in a MUCH deeper way. After the first few days of this...
Read more